El Paso Community College (EPCC) is a public institution located at 10700 Gateway East between Americas Avenue and Horizon Blvd. Its administrative center is located at 9050 Viscount El Paso, Texas and the ZIP code is 79925.
Blackboard EPCC is a web-based course management system created by the college to allow students to participate in classes delivered online or use online materials and activities to complement face-to-face teaching.
In this article, you'll know EPCC campuses and their ZIP codes, and how to use the blackboard Course Management System (CMS).
EPCC Campus Locations and Their ZIP Codes
| Campus | Location | ZIP Code |
| --- | --- | --- |
| Mission Del Paso Campus | 10700 Gateway East, El Paso | 79927 |
| Northwest Campus | 6701 South Desert Blvd, El Paso | 79932 |
| Rio Grande Campus | 100 West Rio Grande Ave, El Paso | 79902 |
| Transmountain Campus | 9570 Gateway Blvd. North El Paso | 79924 |
| Valle Verde Campus | 919 Hunter, El Paso | 79915 |
| Administrative Services Center | 9050 Viscount Blvd, El Paso | 79925 |
Blackboard EPCC
How to Use Blackboard EPCC
To be able to use the Blackboard you must log in to your EPCC account and you can have access to the features in the menu where your username appears.
You can easily find your courses, join discussions, submit your assignment, view your grades read the latest announcement, and more! You can also view messages in each course and compose and reply to messages.
For instance, If you want to find your courses you'll first:
1. Click on Courses. This will take you to the Courses page.
2. To find your current courses, click "Current Courses" and you'll the list of all the courses you're currently taking.
3. To know more about the courses, click on "More info" on the course tab to see the CRN, and then click on the course card to go to the course.
The instructor course is the one to provide links to the Blackboard tools, web links, and content areas.
Note that you must be enrolled as a student before registering for classes or courses.
How to Log Into Blackboard EPCC
If you want to sign in to the Blackboard:
1. Open a web browser and go to my.epcc.edu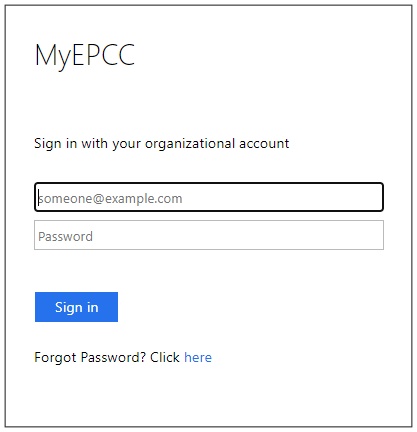 2. Enter your EPCC email and password.
3. After you've logged in, click on the Blackboard link located on the menu bar.
4. Now, log in again using your EPCC credentials (email and password).
5. If you're using the Blackboard for the first time, scroll down and click "Get Started."
How to Find Your EPCC email?
To access your email, please follow these steps:
1. Go to MyEPCC email page at https://mail.epcc.edu/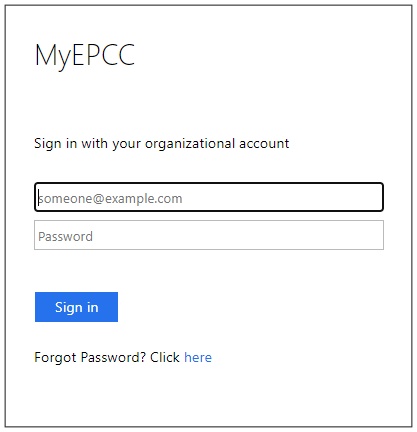 2. Enter your EPCC Account username (username@my.epcc.edu).
3. Enter your password and select login.
With your EPCC email, students can send and receive emails, with a feature for adding attachments.
Please note when using Blackboard, we recommend that you use Mozilla Firefox or Chrome as your browser.
Students can reset their EPCC PIN by using the "Forgot PIN?" link. If you haven't set your recovery options or are unable to use the forgotten password app please call the IT Help Desk at (915)831-6440 for help.
You can get all the EPCC Library and IT support you need. Whether you want to find out more about Library facilities, IT and email issues, printing facilities on campus, resetting passwords, questions about your ID card, or any other support issue, this will help.
Where to Get Your EPCC ID
Once you have enrolled in all your courses for the year, you can order your EPCC student ID card by going to any Campus Life Office, there you'll have your details and picture taken for your student ID Card.
What do You need to Enroll in EPCC?
Copy of your school qualifications (e.g. High School Certificate, National Senior Certificate) Copy of your official tertiary academic record(s) (if applicable) (internet copies will not be accepted) Copy of your ID document or ID/passport for international students.
To apply go to ApplyTexas Website at https://www.applytexas.org/ to apply online. Once your application is processed you will receive an email from Apply Texas.
FAQs
What is My EPCC
My EPCC is where you will find your student record within the Student Hub. It allows you to update your contact details, enroll in your course, register for an elective module, and check your module results.
What is EPCC Web Banner
EPCC Banner is an integrated student information system that contains online admissions, financial aid, records, student accounts, advising, housing, disability services, and more. It is the database for the college.
To log in to the Web Banner
1. Go to the Web Banner page at https://ssb.epcc.edu/epcc/twbkwbis.P_WWWLogin
2. Enter your Student ID number.
3. Enter your PIN and click "Login."
If you're using the EPCC banner for the first time, your default PIN is your date of birth: MMDDYY.